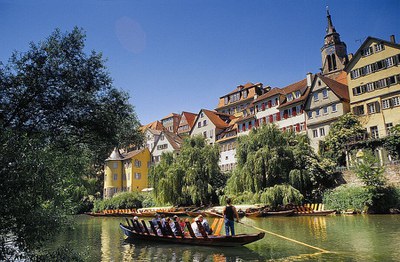 The second annual meeting of the TRR 195 will take place in Tübingen, Sept 24-28, 2018. The meeting starts on Monday at 2pm and ends on Friday after lunch.

Posters
Here you can download the conference poster in different sizes: A0, A1, A2, A3 and A4.
Film
On Wednesday, September 26, the award winning film "The discrete charm of geometry" by Ekaterina Eremenko, showing how modern mathematical team work is carried out, will be shown at 7pm in Kupferbau, Lecture Hall 22. Here you can download the poster and the flyer advertising the film.
Speakers
Schedule
Here you can download the schedule of the conference.
Abstracts
Here you can download the abstracts.
Slides
Location
The conference will take place in
Campus Morgenstelle, Building C, Room N14 (entrance floor).
The campus is most conveniently reached by bus (walking 20 min. uphill). The bus stop is called "BG Unfallklinik". You can use the bus lines
5, 13, 18 and 19 from the train station,
13, 18 and 19 from bus stop "Parkhaus König" or "Rümelinstraße" (which are close to the old town).